On June 22nd, 2020, Can Tho University (CTU) was honored to welcome the Ambassador of Switzerland to Vietnam to visit Can Tho University. At CTU's side was Prof.Dr. Ha Thanh Toan, Rector, and leader representatives of Dragon Institute, College of Environment and Natural Resources, Department of International Relations.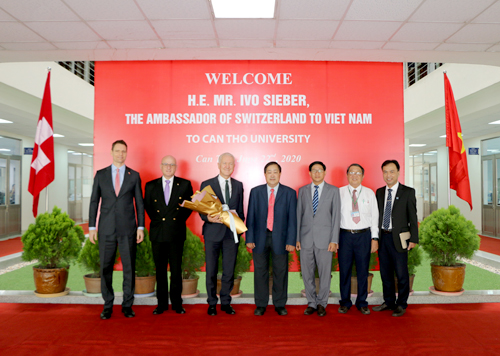 Welcoming the Ambassador of Switzerland to Vietnam to visit CTU

At the meeting, Prof.Dr. Ha Thanh Toan, Rector of CTU, sent a warm welcome to the delegates of the Swiss Embassy. The Rector also introduced about the University's overall information and its training activities, scientific research, and technology transfer, especially its strengths in the fields of agriculture, fisheries and environment. Many research cooperation programs to adapt to climate change in the Mekong River Delta region and research for sustainable development of the region were also mentioned. 
 
The Rector shared that CTU is committed to constantly improving the quality of human resource training, closely associating with employers and localities to create conditions for students to experience and learn from practice, and create opportunities for cooperation in science and technology research, transfer and application. With efforts to strengthen international cooperation activities, the University is currently implementing "CTU Improvement Project", which is aimed at strengthening CTU to be an excellent and meet international standards on education, scientific research, technology transfer and governance. The results from the Project are strongly believed to make an important contribution to the outstanding development of the University in the coming time.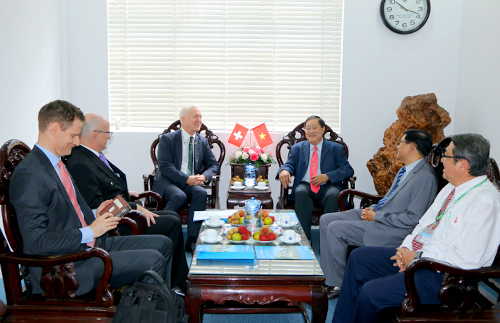 The meeting with the Swiss delegates took place at the Administration Building

The delegation of the Swiss Embassy also expressed a deep impression on CTU, a key university in Vietnam, especially its position and role in the development of the Mekong Delta region and the country. At the meeting, the delegates exchanged information with Dragon Institute, College of Environment and Natural Resources on the climate change situation in the Mekong Delta region, difficulties and challenges posed and their activities in researching solutions to adapt to climate change.

Mentioning the good cooperation between Vietnam and Switzerland in the current period, the Ambassador of Switzerland, Mr. Ivo Sieber expressed his satisfaction with the efforts and results of cooperation between the University and Swiss partners in recent years and expected that this good cooperation relationship will be firmly maintained, and many cooperation projects will be promoted in the future.
 
Prof. Dr. Vo Quang Minh, College of Environment and Natural Resources, reported the RIICE Project financed by the Swiss Agency for Development and Cooperation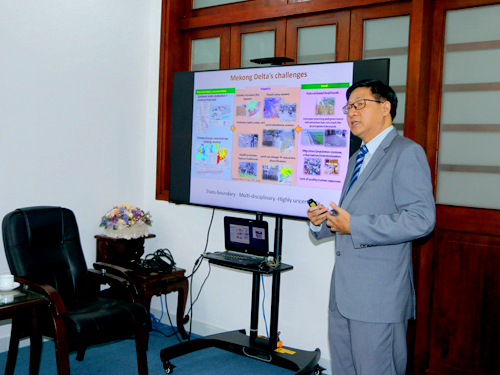 Assoc. Prof. Dr. Nguyen Hieu Trung, Dragon Institute, shared information about the research situation on climate change at CTU
The Ambassador and the Rector exchange gift

(Source: CTU Journal of Science)