On September 15th, 2020, Can Tho University (CTU) solemnly held a ceremony to award international master degree in Aquaculture for the third batch. Attending the Ceremony were the Rector Board, leaders representatives of the CTU's units, new graduates, relatives and friends. 
The ceremony took place at Hall 2, the Administrative Building
Aquaculture is one of the first international master programs of CTU. The program was launched in 2016 with the financial support of the VLIR-OUS program. From the second batch, CTU has offered additional five scholarships to increase learning opportunities for students. This is a special training program with a new teaching model that has not been available at CTU or in the country before. The cooperation and contributions of domestic and foreign institutions make the program special to bring greatest benefits for learners.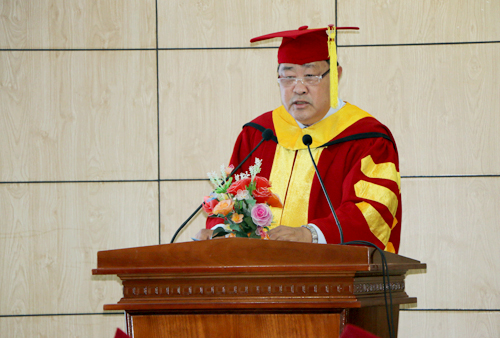 Prof.Dr. Ha Thanh Toan, CTU Rector, congratulated the new masters
Te third cohort of the International Master Program in Aquaculture consisted of 16 students from 10 countries including: China (1), Kenya (2), Laos (1), Malawi (1), Myanmar (2), Nepal (2), France (1), Philippines (1), Tanzania (1) Uganda (1) and Vietnam (3). During the academic years of 2018 - 2020, the students have completed 24 courses (corresponding to 65 credits). Most of the courses are co-taught by professors, teaching staff of member universities and institutes. Students experienced the internship at the end of the first year at practical sites or companies of university partners. o In addition to practical training at the universities, a field trip was organized for the students to visit fish hatcheries, fish farms and shrimp farms, etc. In the last semester, thesis was conducted and defended.
Resulted from two-year training, 13 out of 16 students have completed the course, accounted for 81.25%, of which, two students received certificates of merit from CTU Rector for excellent achievements in study. 
Assoc.Prof.Dr. Vu Ngoc Ut, Vice Dean of College of Aquaculture and Fisheries, VLIR-OUS Program Coordinator, report the training process and evaluation

Speaking at the ceremony, Prof.Dr. Ha Thanh Toan, Rector of CTU warmly congratulated the new masters and expressed the pleasure of CTU to receive and train students from all over the world, especially those coming from developed countries in aquaculture. The graduation ceremony is a special event to mark the moment of reaping the achievements that new masters deserve after two years of hard work in Vietnam, especially at CTU. This is the pride and success of CTU in particular and partner institutions in general in receiving and training international students.
On this occasion, Prof.Dr. Ha Thanh Toan gave his sincere thanks to the VLIR-UOS Program for financial support to develop this program. The gratitude was also sent to all professors and staff from  the partners in the VLIR Vietnam Network including Vietnam National University of Agriculture, Hue University, Nha Trang University, Research Institute for Aquaculture No.2, especially Ghent University, Belgium, for joining in teaching and contributing to the success of the program.
It is believed that the new masters have achieved significant knowledge and know-how techniques to bring home for practical application to develop aquaculture at your own homeland. CTU always welcomes new masters back to study, research and collaboration in the future.
New master Fridah Gacheri Mutea with sincere and emotional sharing about the learning process in Vietnam as well as CTU, and expressed deep gratitude to the VLIR Program, training institutions, especially CTU. In the words of the new graduates, Ms. Fridah expressed her determination to bring knowledge, experience and skills to effectively apply into practice and contribute to the development of the country.
Prof.Dr. Ha Thanh Toan, Rector and Assoc.Prof.Dr. Tran Thi Thanh Hien, Vice Rector, presented merit certificate to Mr. Wilson Sawasawa and Ms. Fridah Gacheri Mutea for their outstanding academic achievements
New masters were awarded the degrees
The graduation ceremony is probably the last day of master students in Aquaculture at CTU, but it opens a new start for new plans, projects, research and successes. With a solid foundation for development, it is believed that CTU's international master program in Aquaculture will increasingly spread, creating a strong impression in national and international graduate education.
Group photo
(Source: CTU Journal of Science)